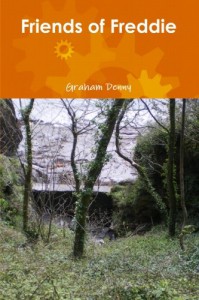 My heart has a soft spot for Christian allegory; some of the best being: Pilgrim's Progress, The Chronicles of Narnia, and even Lord of the Rings (something about being inspired by an all-night religious argument between Lewis and Tolkien). Graham Denny's Friends of Freddie is reminiscent of the Pilgrim's voyage (protagonist on a trek to The City) while offering hints of Tolkienisms (dwarves, lush wooden environments, etc.).
To read this, there are some considerations to be made. First and foremost, this is an independently published book, and it shows. Sentences dwindle longer than necessary, pacing issues need tightening, and there are a small handful of word errors. I am ranking this book on the picture I see as a whole, and not as I would a professionally produced novel. Graham did quite well on his own merits and I am leaving my review with those caveats considered.
As mentioned above, Friends of Freddie walks hand-in-hand with Pilgrim's Progress. The author infused some modern-ism into this work, but avoided easily targeting the millennial demographic. Most allegorical references were clear and relatable, but there were a few that were missed upon me. This may be a worthwhile consideration, allowing readers to pause and deduct how the writing applies in their own lives.
My main critique is the gratuitous situations often involving the protagonist. To be fair, the author makes an "adult themed" disclaimer in his novel's description, but some of the situations are quite—well—gratuitous. Yes, adults are involved in adult-orientated situations, but some Christians may be offended by sexually descriptive writing about body parts, throat-slicing of female octogenarians, and other such like elements.
Overall, if you are a fan of Christian allegory and can overlook a book that has been obviously independently published and often refers to adult-themed situations, then you will find yourself enjoying the ride. If the occasional grammatical error, sexual reference, or violent stabbing offends you, you'll be better served elsewhere.